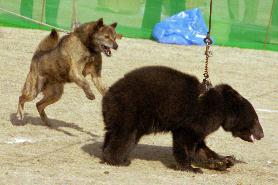 ---
Breed: Hokkaido-Inu
Origin: Japan
Group: hunting


Size: medium


Height:
male 19-20 inches (48.5-51.5 cm)
female 18-19 inches (45.5-48.5 cm)

Height and length of body are in the ratio of 10:11. Regarding the length of body, female is longer than male.
Coat: medium short, thick, and double.

Color:
red
,
white
, black, gray, sesame,or brindle (some variations of these colors are acceptable)
There are so few black, gray, sesame, or brindle dogs (especially brindle dogs).

Cheeks: well developed.
Ears: small and held upright.<


Eyes: somewhat small, dark brown, and

set triangularly.


Chest: wide and deep.

Tail: large, full, and carried over back

or against flank.

Tail: large, full, and carried over back or against flank.

Names: Ainu Dog,

Hokkaido-Inu

, Hokkaido-Ken,

or Ainu-Ken.
---

In 1937, the Ainu dog was designated in Japan as "a rare speciesprotected by law" and it was decided that the official name of the breed would be Hokkaido-Inu.
However, the dogs are almost always called Hokkaido-Ken among the Japanese people.
In the Japanese language, both "Inu" and "Ken" mean dog, but "Ken" is usually used with a noun such as the local name (for example, Hokkaido-Ken, Kai-Ken, and Shikoku-Ken). In fact, the use of "Inu" with a noun is generally considered incorrect.
Thus, while the formal name in Japan is Hokkaido-Inu, the expression Hokkaido-Ken is more generally used in the spoken language.