Wonderful Deer Hunting --- Hokkaido-Inu Museum (Ainu Dog) in JAPAN
Welcome to the Hokkaido-Inu Museum

Hokkaido-Inu
Wonderful Deer Hunting
Nobuyuku Abe's World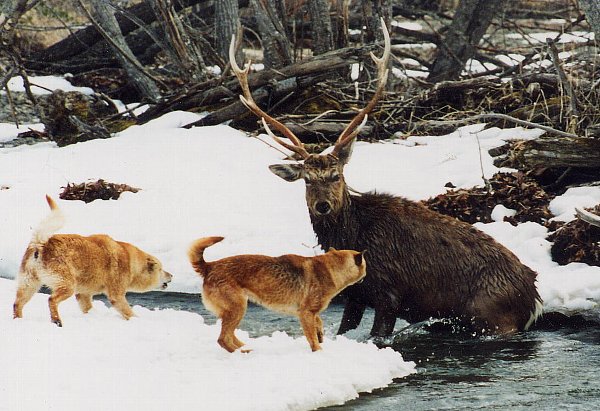 We reviewed an interesting book with the compliments of the author on September 16, 2003.

The book is titled "Wonderful deer (Ezoshika) hunting of the Hokkaido-Inu which isn't well-known" and was written by Mr. Nobuyuki Abe (a member of the Hokkaido-Inu Association) in Hokkaido.

By studying deer hunting in the mountains, Mr. Abe has examined the hunting capacity of the Hokkaido.
In his book, he writes that his two dogs will instinctively push a deer down.
He analyzed the habit, including many spectacular pictures in the book.

His studies confirm that his dogs throw down and kill the deer by destroying the nerve system at the shoulder joint of its front leg.

According to his report, when the dogs get game, they never eat it.
Once the big game can no longer run, the dogs lose interest.
In short, the Hokkaido hunts game to be helpful to its owner.

Some of the excellent pictures have been previously introduced in the "Information" section of our website with Mr. Abe's permission.
He died already.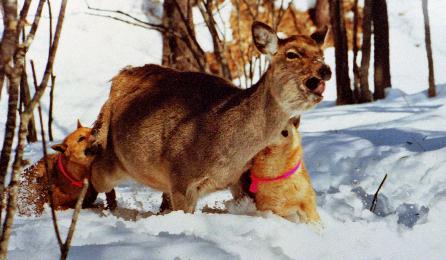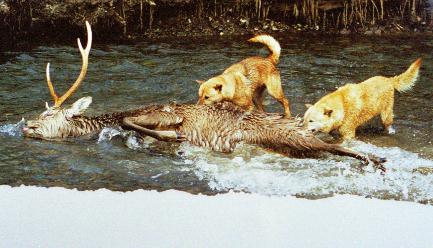 By Nobuyuki Abe